Mar 29, 2016 1:33:11 GMT -5
Post by Ilyα Cяσw on Mar 29, 2016 1:33:11 GMT -5
ILYA DAVIDA CROW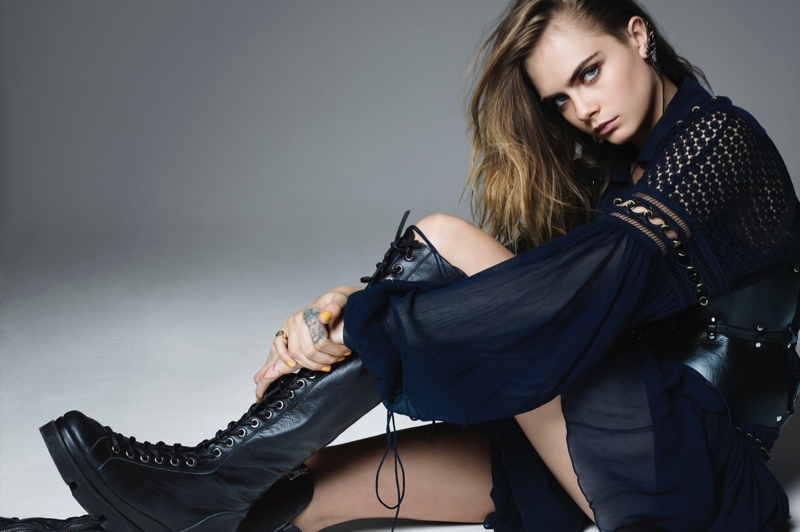 Play-By: Cara Delevingne
Theme Song: Deftones - Change


Name: Ilya Davida Crow
Age: Twenty-four
Gender: Female
Race: Human - and a bad one at that. (Not bad in the 'bad to the bone' sense -- she is an actual poor example of a human being in a variety of ways.)
Sexuality: Pansexual
Nationality: Stirling, Scotland
Marital Status: Single



Description: A wicked-looking creature, Ilya, with a demeanor of the most comically ill intent. She often dons a half-lidded gaze and a sloppy, crooked smile of bared teeth -- a complimenting glaze to a rigid entirety. She is, by nature of her bar-tending stint, approachable upon her surface; just the right measure of luster and distance. Her hair is purposefully unkempt to a degree, eyes a strange, piercing hue of gray-blue -- and she is especially petite, barely surpassing five feet.
Weapons: A traditional bow of hickory paired with a quiver of turkey-fletched arrows. The quiver is kept at her hip rather than her back. A small hunting knife or three find themselves in her boot, jacket pocket or shawl.
Apparel: A pair of signature black Doc Martens; machine-ripped, tightly fit jeans and an ill-fit black sweater with rolled sleeves; and if the temperature insists, an army green parka, vividly colored knit slips for her hands and a gray shawl. No jewelry nor unnecessary accessory on her person.
Vehicle: None.
Other: Her entire right arm is tattooed in an elaborate piece of black line-work.
Stats:
strength: 10/25
speed: 5/25
intelligence: 0/25
endurance: 15/25
agility: 11/25
Skills:
sharpshooting
flexible



Personality: These days, it is difficult for Ilya to pin-point who she truly is. She shifts the intensity of her being with every passerby -- for tips or the sake of studying the human condition, she has yet to know. Within a mess of ever-changing aspects to appeal to the masses, her easy (or perhaps witty) nature is most concrete. She is always the first to laugh, and seems one step ahead of every kind of humor. It is the root of Ilya; her fault, her defense mechanism, her way in and out, and for that she is afflicted with gratefulness and self-loathing. Curse that everlasting snark of hers.

She can be either uncomfortably reserved or mercilessly harsh under serious conditions. The latter is an unforgivable spitfire of unpredictability, and the former is as quiet and walled in to herself as an aloof child; both are quite hard to manage.


Likes:






folk-lore



mysteries



alcohol



poetry



archery






Dislikes:






sunlight



small-talk



clichés






Obsession: Reckless and unforgiving adventure. She lacks the basic sense of listening to her gut when her own safety is in question on account of her addiction to adrenaline.
Phobia: Routine.
Alignment: Neutral
Disposition to the Law: Chaotic

History:

Notable pieces of Ilya's history that have assisted in forming who she is as a person:

I. Ilya was born Ilyanti* Corvo within the muted-silver streets of a small town in Scotland to an Italian author, Ale Corvo, and an artist, Blithe*. In her youth she studied well and often with literature beyond her age and history astounding to even the most open of adolescent minds. She could not be kept still and couldn't grasp the concept of privacy and personal space. Every local of Stirling knew of the cloud-eyed imp of a girl that would ask questions a rational human being would never let leave their lips. She remembers most fondly frequenting a small and foul-smelling tavern where she would meet travelers and memorize every kind of whisky and scotch on the shelves. Her mother, Blithe, was murdered by Swiss radicals by the age of nine and by ten, her father, a grieving writer, drank himself to death. Ilya was then taken in by the tavern-keeper and beloved bartender, Palish.

II. By sixteen, Ilya had taken up poetry and left Stirling and Palish, along with dozens of leather-bound books full of solemn, pretty words. She shortened her name, adopted the English surname of Corvo, Crow, and took to the cultured streets of every city of western Europe. At this moment in her life she learned the talent of weaving tales to get what she wanted -- needed; a bed, a train ticket or worthy company. At seventeen, the swindler of a teen made her coin by bar-tending in a surfeit of pubs; from upper class London clubs to begrimed brothels of Stockholm. She was a true wanderer -- the unfamiliar fulfilled her, nearly to the brim if she weren't insatiable.

III. At age twenty, for a short period of time, Ilya joined a militia in the United Kingdom to put conventionally questionable skills (and hobbies) to good use. Unfortunately for her, the militia itself had shown its true colors to be a corrupt caste of radical vigilantes, and radical does not sit well with her. She left the organization, but not before blighting it from the inside out until it was in absolute disrepair.

IV. Ilya returned to drifting. Her friendships are short-lived and she has never experienced romantic love, a graduation, or generic, feud-filled family holidays. She keeps a single journal to quiet her mind and this is filled with poetry and small, bitter rants, and - as expected - she has no single abode to call her home. She keeps in contact with Palish through letters every few months and has been victorious in tucking away what little remembrance she has of her youth, including the comfortable quaintness of a creative family trio -- other than the art and unfinished, novel-esque works that are enough proof for the young woman that the supernatural exist. She uses these pieces as a questionable tracker on where to lay her head next.


*Ilyanti: Ilya in itself is a name Ale Corvo chose as the protagonist for his most well-known novel, its meaning being the 'strength of God(s)'. Ilya is a masculine name in many European countries and so her parents added three letters to feminize it.

*Ale Corvo wrote 'true event and history based' novels on his findings and observations on the supernatural -- the most commonly read by Ilya being 'Esseri Mistici'. Blithe took his words and created fine art of acrylic and oil paints.
Other: The small-scale amount of loyalty Ilya has for the Gods has been put forth to Aine; she identifies best with this God's bearings and admires every tale and fine art of her beauty. Aine crosses her thoughts when she is most intense in her own dealings.

Ilya - hushedly - has taken it upon herself, fueled by her licit curiosity, to track any area with substantial evidence or history of a supernatural population. She has a demanding fascination and it is tales of beings like these that keep her on her toes.
(She has been proven successful in this avocation.)

She is fluent in 10+ languages.