Sept 4, 2011 21:16:58 GMT -5
Post by Rennia Trayvold on Sept 4, 2011 21:16:58 GMT -5
picture
: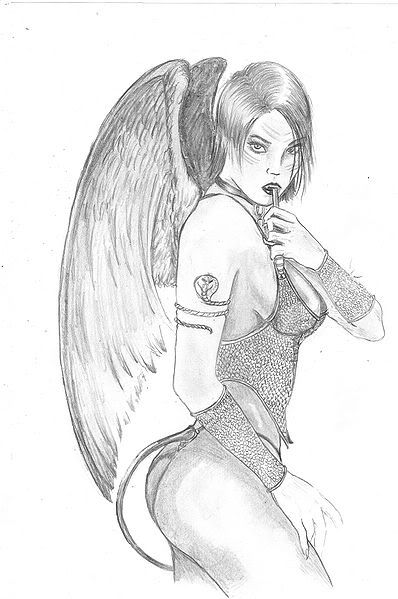 playby
Trayvold, Rennia
theme song
The Unforgiven by Apocalyptica
description
:
Often hard to spot Rennia still manages to be eye catching when she is. Depending on where one starts, they would be met with short, jaw lengthed hair of a deep blood red hue. Kept neatly trimmed at all times, the hairstyle speaks of professional style and attention. Never too long to truly get in the way or be effectively pulled, and never to short to really mistake it for a male's cut. Next one would meet a pair of eyes that at the same time were alluring yet in the same instance the forboding gaze of a cold-blooded killer. They often seemed to have their own source of light as they glow brightly at times in low lighting. Those deep red pools would constantly flicker about when they weren't concentrating on something in particular, always aware, and always ready to act. A well chiseled face with well set cheek bones would follow rounding down to a not to slender not to thick neck.

Beneath that would be the gentle flair of her shoulders, surprisingly subtly wide set for a female. Behind those a very notable pair of wings with blood red feathers would float, idly shifting as she did. The feathers move more solidly than one would expect, leading one to possibly suspect them to be slightly heavier than normal. Following her shoulders is a somewhat ample curve of flesh filling out her chest.

Following that is a rigid abdomen with subtly noticable musculature. To either side of that were a pair of similarly muscled yet lean arms. Almost a cross between slight bodybuilder and flexibility. Decently lengthed strong fingers adorn her hands, a few rings found on either hand to display her current relationship status, or for decoration.

Further down one would find a slight flair where her hips began, trailing down into a powerful set of thighs, unmistakable that of a very fast runner who could keep her pace for a fairly long amount of time. Hidden behind those shapely legs would be an ever swaying tail that ended in a spade like tip.

Despite her age, Rennia retains the look of someone who would, at best guess, appear to be in their late teens early twenties at the oldest. Being a demon she was still comparatively young, when compared to the ancient elders still hidden deep within Rome and some of the older places in the world.

Notable features: Nearly unmarred light bluish grey skin, Long prehensile, spaded tail, Large wings with blood red feathers with intermittent black tips. If one were lucky, they might also catch the naval piercing she possessed, which was a mithral band topped with a small diamond.
name
:
Trayvold, Rennia
age
sweet 1390
gender
Female
race
born a, Demon
should we put bricks on your head?
Rennia is, 6'10 tall.
no place like home
Unknown
getting lucky with ~someone~
Bisexual
babies coming?
Engaged

Innate abilities:
Flight/Wings
Aura of Fear

Gained:
Stealth
haunting vision
knock
sixth sense

weapon(s)
Something of a weapons master Rennia can often be found with a wide array of weaponry. However there are a few items she favors the most. She is often armed with two forearm length blades for defense when things get up close and ugly. She also seems to be armed with a large Barrett M82 .50 cal sniper rifle. Finally to top off her collection was her prized jewel.

Back in the days when magic still filled the air and people were more faithful to their divine elders, a longbow had been custom made for this demon. The tall, black bow stood at seven feet long, and was adorned with magical runes. It bore an unusual power unlike any other. When in the presence of this bow, when brought out, one can two alternating songs. Dirges, or requiems as they are called. When held the bow often projects the tales of those it has killed into the wielder's mind. When being held by Rennia, the bow often faintly projects a requiem of the death of those who hear it. (That is each person hears a tale of their death.) The second dirge is sung in the language of the dead. Something only often understood by the gods themselves, and on occasion reapers. Anyone else who would hear that song often would not understand it. As one's death draws nearer the song would slowly shift from the language of the dead to something more appropriate for the listener to understand.
whatcha~wearin?
Heavy, steel plated black boots come up to the center of her shins, providing lot of practicality and a little fashion flare at the same time. Coated so as to create muted footfalls, function is their primary purpose. Above that are a set of black, reinforced military pants, their pockets often stuffed with various tools of her trade. Above that was a similarly dark shirt, also of military grade. It covered from her pants up to her neck and down to her wrists. Atop that sat a light ballistics vest, able to stop small arms rounds and most pocket knives, but light enough not to hinder her movement.

Covering that was a light trench coat that flowed down only to her knees. It was more for hiding what was beneath it rather than providing any real protection from the weather. That came from the heavy cloak that finished off her look. Encompassing her entire frame, it would close around the front, flowing easily whenever she walked, yet protecting her from prying eyes and any wind or rain she faced. It also did a wonderful job of hiding those large blood red feathered wings she had behind her. Atop that sat a hood which wonderfully blocked the light, wind, and those unwanted eyes from a clear shot at her face. The look often drew attention when noticed, but she was fairly good at not being noticed.

transportation
Back when they were new Rennia purchased herself a 1967 Chevrolet Corvette Stingray 427 tri power. Over the years she kept it in good shape and upgraded it's parts. Now it was a bored out 454 supercharged beast. It's transmission had been replaced with a newer six speed transmission and it's internals had been replaced with a somewhat modern interior.


anything.else.you'd.like.to.share?
She keeps a key close at hand that likely leads to her "lair."
disposition to the law
Neutral
alignment
Neutral
likes
Wolves
Nature
Cars
Archery
Her Fiancee
dislikes
Idiots
lawless thugs
Rude people
phobias
Feeling she failed those close to her
obsessions
Doing her job right
background
Rennia Trayvold is an oddity even amongst those of her own kind. That is because unlike even her own demon brethren Rennia came from an unusual origin. Unlike most creatures in the world, she was not born of a mother and father. She was the result at early attempts, by a demon, at genetic manipulation. Back then much more faith was placed on magic than science. The result was a creature that strayed away from some of the more intimidating features of demonic creatures, whilst still maintaining the defining characteristics of that fiendish origin. Created in a time where her looks would be viewed as exotic, Rennia's creator viewed her to be a success.
Besides the alluring features she was blessed with, Rennia was initially created to be emotionless as well. Her creator believed that emotions would only get in the way of her purpose, her function. That function of course was as an assassin and saboteur. She was created to kill specific, often high value targets, and to stop unwanted progress amongst those deemed to be a threat to her creator's allegiances.
Rennia was the last member of a small band of demonic assassins known as the faded eight. The other seven, like her, were products of her creator's making. While still functional, and very efficient, the previous seven were often considered to be prototypes by their creator, with Rennia being the finished product. Together they took on many assignments, killing targets and preventing kingdoms from developing breakthroughs that would have changed the course of history. Many of these jobs were for the demons, often those of Rome, but some came from outside requests, clients willing to pay sums of money to have someone exterminated or to have something stolen or destroyed. All of it however, was done in the name of "progress."
However, ultimately a being without emotions, without a personality of their own, simply could not exist in the world. Something Rennia's creator never understood. In time Rennia slowly developed her own way of life. Like an empty glass dunked into a body of water, outside emotions and beliefs soon flooded into Rennia until she became what she would be for the majority of her life. Concepts she had never quite grasped were introduced to her. Friendships, devotion, hate, ... even love soon made an appearance in her life.
Then one day she failed a mission. She had destroyed the target intended but she had drawn too much attention to herself. As a result she was forced to fight her way to an escape. In the process she killed too many people, and drew too much attention to her actions. Her creator was furious. It was then that she also found out about Rennia's developing personality, and realized the creation she thought was perfect, just wasn't so. She branded Rennia a failure, and because of her misstep in the mission, she cast Rennia out of her position.
Rennia soon became homeless amongst her former creator's domain, and decided to leave the area entirely. She kept in touch with other organized cells, some within the Demons of Rome, as well as other cells in other places. Ultimately however she disappeared off the "radar." She kept her life low key amongst the powerful individuals of the time, decided to simply live her life on the down low. For many years, she left the stage of the world to other people.
Rennia eventually found an isolated land, far outside the influences of many of the larger kingdoms and nations. There she settled down, escaping the life of hiding and constantly looking over her shoulder. It was here that she developed her personality further. She made friends and met a few lovers along the way. She eventually joined in with the island's law enforcement, deciding to take up work as a guard there. It was an unusual line of work for the former assassin, but she had done so in the interest of protecting the place she now called home. She had also always been someone who valued her own personal word and promises. So when she promised to uphold the laws of the land, she felt others should too. During her time on the island she would eventually meet the woman who would later become her fiancee. In an ironic twist Rennia Trayvold had hooked up with an angel of all creatures, quite literally. She went by the name Rayne Thel'amor. Though a few of Rayne's close friends and associates knew her true name.
Eventually Rennia left the land as it fell into ruin. Left to resume her life of wandering, she took up the occasional job here and there to appease those who still knew about her existence and weren't always thrilled about it. She never took money for her hits however. That was always earned in other ways as she believed killing for money was a poor reason to kill.
Word soon came of the new world, later called the Americas. Rennia saw this place as a chance to once again start a new life away from the prying eyes of the supernatural world. She quickly boarded the first ship she could that was bound for the new world and she set off in hopes of finding a nice corner to settle down in. For many years she stayed out of the spotlight, enjoying the quiet life of an ordinary person. Well, as normal a life as someone of her age could possibly get.
However, yet again she was thrust into world events when the United States entered the first World War. Rennia had managed to stay out of the revolutionary war and even the civil war, but only just. Obviously as a female she'd not have been obligated by the powers that be, but those wars had come close to threatening the peace she had sought after. Now she was thrust into another event that would shape the face of the earth. Despite being a woman, and women not being allowed to serve as soldiers in the army, Rennia was able to slip her way into the United States army. There she earned a small footnote in the history books as being a renown sniper. Now using a gun instead of her bow, she killed hundreds of axis soldiers with skill and ease, often times easing the pressure off of a surrounded unit.
After the war was over the world slipped into the depression. Fortunately due to her low key life style it didn't effect her much, but it put her in a difficult situation financially. Things were further compounded when the Second World War. Again she found herself serving as a sniper, though now she was better equipped. Given a new rifle she found herself all over Europe, and even, for a while, in the Pacific, serving as a scout sniper for the army. Posing as a male was difficult for her, given she had to keep the act up constantly. Even when sleeping. That often made things difficult during certain times. Still she managed to keep herself out of the spotlight, hidden in the shadows where she could pick of targets with ease.
She finally found herself back at home after spending the last half decade at war. However, by now she had given up the hope of escaping the world, and decided that, perhaps she should simply accept fate and do what she did best. So she once more entered the world of espionage and assassinations, cloak and dagger. She appealed to one particular man, giving tales and proof of her accomplishments. He reluctantly agreed and allowed her to join into the world of Black operations. For the next Sixty years that was where she served.
Now she splits her time between enjoying peace and quiet in her out of the way home somewhere out of the way in the good old USA and doing the odd job with the black operations outfit she joined up with. She tends to be a nightowl, going out mostly in the dark where it is easier for her to avoid unwanted attention. She also still does the odd job within the supernatural world as well, occasionally taking out a high value target, or slowing progress when needed.[/blockquote]
Rennia is what could be considered a true neutral being. She has a rigid code that she follows, and will stand up for her beliefs even in the face of death. She also believes that civilization needs law and order to survive. Despite this all, she is not afraid to do what is necessary to achieve her goals. She will even murder in cold blood, even if murder is illegal. Her goals are also similarly deep in the grey area. Even if prone to violence, she often does so in the pursuit of what she believes to be right. In a way she could be considered a "Dark knight" of sorts. Someone who, while still bound by their own codes, will do things many might consider evil or unsightly in order to fight for what they believe in. If one needed someone to compare her to they often could find many similarities in her behavior within Riddick.