Post by Kage Jaeger on Sept 15, 2015 2:51:39 GMT -5
Kage Sasori Jaeger
theme song
:;
Blow Me Away by Breaking Benjamin
description
:;
Kage is a tall, strong, athletic lad. Standing at 1.8796 meters tall (6' 2") he is tall, and weighing in at approximately eighty seven kilograms (192 lbs). He has long, shoulder length black hair that is straight and very full of body. His eyes are a hazel, a mixture of green and blue with a striking almost golden ring around the iris. His body is extremely toned, from years of exercise and physical training. Also he has upon the underside of his left wrist a birthmark, vaguely in the shape of a scorpion that is angled from his thumb towards the right side of the wrist. There are numerous scars upon his body, mostly concentrated upon his back and chest but there are some upon his arms and legs as well.
playby
:;
Jo Dong Hyuk
age
:;
sweet 21
gender
:;
MALE
race
:
born a Human/Draconian
should we put bricks on your head?
:;
Kage is Six feet and two inches tall
no place like home
:;
Osaka, Japan
getting lucky with ~someone~
:;
Heterosexual
babies coming?
:;
Single
abilities
:;

Strength: +4 (starting bonus)
Endurance: 0
Agility: 0
Speed: 0
Intelligence: 0

weapon(s)
:;
Kage is proficient in a great many styles of weaponry. From classical weapons such as the katana, the ninja-to, the sai, the bo, the fukiya and darts, the kama, the kusari-gama, the manriki-gusari, and even the bow and arrow to none classical ninja weapons such as the tonfa, the nunchukas (Nunchucks may or may not have actually been used by real life ninjas...in this case his clan didn't use them specifically), and even a little bit of firearms training in pistols because after all it is the modern age and many people use fire arms.
However, simply because he can use these weapons does not mean he carries them all the time. His typical array of weaponry is much more limited yet diverse enough for his needs.
Kage carries approximately twelve shuriken when he dressed in shinobi shozuku, divided evenly upon his sides in two groups of six. When simply wearing ordinary cloths, he will usually carry a two of these weapons, hidden in small secret pouches upon his cloths for use in emergencies of some kind.
Occasionally, Kage will carry tonfa. Nothing amazing, nothing special or flashy. Just plain, wooden tonfa painted a matte black that he sometimes will carry in his ordinary cloths as well as his shinobi shozuku, though he rarely carries them in his shinobi shozuku outfit because he has other weapons to do the same job.
Kage carried several throwing "knives", shaped reminiscently of his clans animal the scorpion. These can be used as a thrown blade, or held and used as a knife of sorts, with either the single bladed end or the double bladed end (although he seems to prefer the single bladed end for this use). He carries four of these, two in special pockets sewn in each side of his cloak.
Kage carries a karambit style blade on his waist at his lower back, usually at all times even in "ordinary" clothing. One simply never knows when a fist fight may escalate and you might need a bit of an edge.
The last weapon typically carried upon Kage's body is his favorite. He almost always carries it around such as a weapon whenever he can. Based upon the hanbō, a favorite training weapon of his Sensei, he quickly modified one to be used for several different uses and for his taller then usual frame. Instead of a 90 centimeter (35 inch) staff his weapon is 107 centimeters. The weapon comes apart in the center with the depression of a locking mechanism, revealing two hidden blades that are 50 centimeters long. With the blades revealed the two backs of the weapons then can be placed together, twisted and locked to combine in to a 205 centimeter long double bladed staff. He prefers with weapon above almost any other melee weapon for it's versatility, ability to adapt to different fighting situations, and the uniqueness it can sometimes have upon an enemy coming upon a new and startling situation. Another distinguishing fact about this weapon is he often will pass it off as a walking cane/stick to deceive others when not dressed in shinobi shozuku.
whatcha~wearin?
:;
Clothing differs greatly for Kage depending upon his mood and what he is doing. A typical outfit for him would simply be some sort of leg covers, typically cargo pants or jeans with at least a few places to hide a few weapons. A simple t-shirt will adorn his torso with a jacket over that. However when he is "working" he will be wearing his shinobi shozuku. Typically black cargo pants, a black shirt underneath a modernized kusari katabira. His Kusari katabira is modernized, much as all Mūnsasori, and is formed much like the modern day motorcycle armor used to protect cyclists but has Kevlar plates for added protection. A black cloak is used to conceal his face and body as well as to hold more of his weapons. Shoes will usually be black boots or shoes of some kind or another that he checks often to make sure they make no noise and yet offer good traction. Should they squeak, he will discard them and get new ones or simply relegate these to "daily" dress.
Something more or less like this would be his kusari katabira. Roughly, at least.
transportation
:;
None
anything.else.you'd.like.to.share?
:;
When dressed in shinobi shozuku, he will carry a pouch of about ten small tetsubishi (caltrops) along with a compact kaginawa (grappling claw) and a length of rope.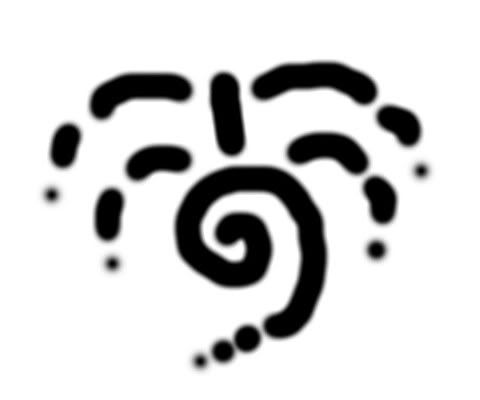 The birthmark upon the underside of Kage's left wrist.
disposition to the law
:;
CHAOTIC
alignment
:;
NEUTRAL
likes
:;
The Darkness
Mermaids
Physical Training
Intelligence and well thought out individuals
Accomplishing his missions

dislikes
:;
Excessively talkative individuals

A lack of action IE When people stand around and do nothing instead of moving towards the achievement of some goal.

Hawks
phobias
:;
Fear of frogs
obsessions
:;
Stomatopods
background
:;
Kage was born to a Japanese mother who was a geisha girl, hired out to escort high ranking officials around town and ensure their trips where pleasant in all ways. His father was a rich, high ranking German official something who was visiting Japan for some reason or another and paid for and was escorted by a geisha who was Kage's mother. After the German official left, his mother found out she was pregnant but instead of dishonoring herself and the German official she had the baby with out informing him. Unable (or unwilling for whatever reason) to raise the child, she left it upon the step of a Buddhist monastery one night late in the night where the darkness would hide her and conceal her identity so nobody would know who had left the child. An act to hide her own shame, as well as the German father's. However the baby would never be found by the Buddhist monks, just an empty basket with a note applying to a vanished child that would never be found.

A shinobi operative, moving through the night heading back to his clan's ancestral home after a successful mission pauses in his movement. The soft cries of a baby filled their air, and attracted by the noise the curious shinobi agent followed them to the steps of the Buddhist monastery. There, a screaming infant was bundled up against the cool night air and settled in a basket. Slightly amused, but uninterested the shinobi moved to leave the infant there when the infant reached out to him. Although the stretching of the tiny arm and hand was not important or worth notice to the shinobi, the strange dark shape beneath the infant's stretched left arm was of importance. The shape of the dark birthmark upon the flesh of the infant's arm was strangely reminiscent of the clan's call animal, a sasori (scorpion). Contemplating the meaning of this, the shinobi finally kidnapped the infant, and disappeared into the night with him with out a trace.

Kage knows nothing of his own backstory. He knows only of how he was raised. He was deemed a sign, a special individual and thus received the best training. In the case of the clan, the best training was their most rigorous, most brutal training. Since he could stand on his own, he was trained to wield weapons. He was forced to exercise and push himself to the limit. He feels pain, but was trained to never show that he feels the pain. Pain was weakness of the mind, body, and spirit. Weakness meant death, in his clan so it was worked out of an individual as quickly as possible. Kage knows little of actual academics, having been trained in what he simply needs to know to accomplish his missions. He knows how to fight, and he can be tactical when he needs to be however he tends to not work exceptionally well in groups although he can if the need arises. He speaks Japanese, Chinese, English and a little Russian and will often pass as attempt to pass as a Japanese American in places he doesn't speak their language playing off the part that American's do not like learning other people's languages.

That Mūnsasori (Moon Scorpions) clan believed in self discipline, exemplary performance and accuracy. They tortured their individuals to teach them how to remain silent under pressure, to maintain their composure, and raise their pain threshold. Through rigorous training they strengthened their bodies, and learned how to wield the weapons of their trade. Mūnsasori specialized in the hanbō, tonfa, and throwing weapons especially knives with their own special uniquely designed throwing knives shaped like a scorpion. They are not cruel in the sense that failure is punishable by death, however it is extremely punished. They are mercenaries, assassins, and bodyguards for hire. Their loyalty is to the clan first, employer second. Love, affection, and anything else that would distract from that is strongly opposed and often dealt with in different ways depending upon the discrepancy and it's severity. The Mūnsasori's rival clan is the Zekkyō taka (Screaming Hawk) clan. Known for using bows and arrows and their art in falconry, they where intense rivals and fought each other ruthlessly many times.
Worships: None yet
Faction(s): None yet
[/font][/font]
(Ignore this URL, it will be used later in Kage's future however I didn't want to lose the URL)
uae.damasjewellery.com/media/catalog/product/cache/3/image/9df78eab33525d08d6e5fb8d27136e95/A/D/ADR206BR0245_1.jpg